Mansions Once Abandon Now Restored
Are you explore how many of you would love to take adventure in to one of these once abandon magnificent Mansions their beauty now restored from ones disrepair state. No longer home to insects, dust, and no longer left for the elements to take over. Here is a brief history and look in to these beautiful Mansions.
1. Hotel Del Salto, Colombia
In 1923 this building was constructed as a Mansion and called Tequendama Falls it was built in 1922-1926 by July 1950 the building was to be reconstructed in eighteen story hotel but the construction never happen the building was abandon in the 90's due to river contamination. The Institute of Natural Science and the Ecologic Farm Foundation were in charge of renovation to churn the hotel in to a museum the mansion reopen with its first exhibit Caverns ecosystems of the subterranean world.
2. Eilean Donan Castel
Located in the Highlands of Scotland,the Eilean Donan Castel sat abandon until 1911,when it was restored by a prominent military officer for more information and history
http://www.visitscotland.com/en-us/info/see-do/eilean-donan-castle-visitor-centre-p248371
you can also see this castle in movies
http://www.scotlandthemovie.com/movies/feilan.html
3. Kellie's Castel
This unfinished ruined mansion was built Willam Kellie Smith it was supposed to be a gift for his wife or son this castel is locates Ipoh, Perak, Malyasia construction started in 1915 the construction came to a stop in 1926 before being completed for more history you can check out this link
http://www.journeymalaysia.com/MHIS_kellies.htm
link
http://www.tourism.gov.my/en/my/places/states-of-malaysia/perak/kellies-castle
4. Bannerman Castel
Located of the Hudson River A Scottish immigrant , Francis Bannerman purchased the island in 1900 and built a castel to advertise his military surplus business . For more History on the building
http://www.bannermancastle.org/island-history.html
5.Chateau Gudanes
Built in the mid 1700s still standing in the south of France in a small village called Chateau-Verdun Now on its way to being restored to its magnificent beauty for more information you can go to this link
http://i.kinja-img.com/gawker-media/image/upload/s--nBcvHrd5--/c_fit,fl_progressive,q_80,w_636/u4nro7pxaplzcglwu4of.jpg
6.Boldt Castel
Located
Heart Island, Alexandria Bay, NY
George Boldt bought the island, shaped it into a heart and built a castle on it for his wife, his wife died in 1904 and he abandoned the project completely. Now known for a tourist attraction and landmark.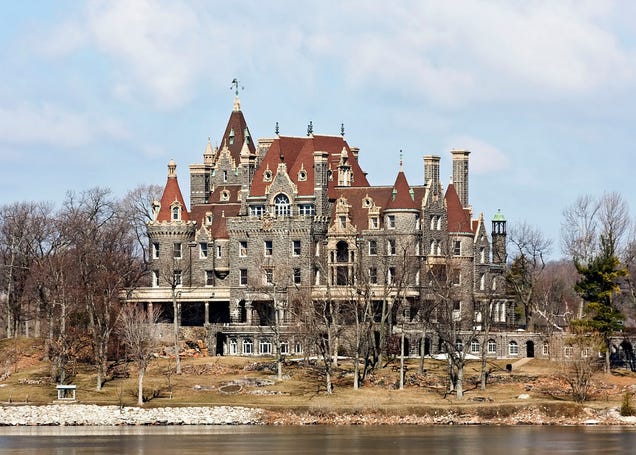 7. The Hegeler Carus Mansion
Lasalle, IL
In the 1880s, the original owner made a fortune on the zinc industry and then set up a family business publishing books intended to introduce the American public to the works of the world's great philosophers. The mansion was also the place where Zen Buddhism was introduced to the Western world.
It was neglected for most of the latter 20th century but has been undergoing restoration as a museum and seminar center since the late 1990s. There's also an amazing 19th century gymnasium in the basement. For more information history check out this link
http://hegelercarus.org/